HAPPY HUMP DAY!! I wanted to share a little birthday card I put together tonight in between chipboard albums for Glen's Aunt who has a birthday on Monday. She's recently been moved to a nursing home, so I tried to make this a bit happy & cheerful - the colors are actually much brighter than they look in the photo - it's been raining all day today and is supposed to for the next three days, so this may be the best photo I can get for the next few days. The rain sure is making our veggies grow like crazy though!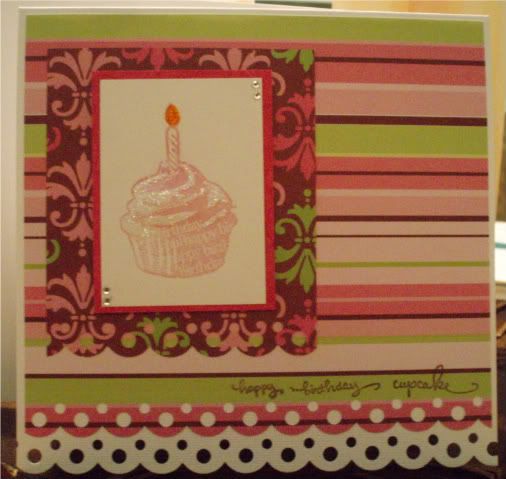 Image - I think the cupcake stamp is by Stampendous, but I could be wrong.
Papers - Coordinating papers from a stack my Sis Shelly got me for my birthday last year
Punch - Martha Stewart
A little bling and some stickles to top it off (it's much more sparkley than the picture shows.
Hope you're having a super great hump day!
Happy Craftin'!
Min