WHEW - Another H-O-T day today, but I don't think it was nearly as hot as it was yesterday. My car thermometer was reading 95* today. I'm so glad to be inside enjoying the good 'ole AC!
So, my nephew LOVED his Mickey Bag! It was great to see Colin and his Mom Amy yesterday. I know they'll have a fabulous time with Mickey! We can't wait to hear Colin's 'Mickey' stories and see the great photos!
But I digress - If you haven't checked out the
Scrap-Friendzy
yet, now is the perfect time! The Girlz there have kicked off a Summer Scrap-cation from June 15-August15. This Scrap-cation is filled with great challenges, Scrappy Survivor, bonus challenges AND more to help you get caught up on some of your scrappin'. A perfect little Summer Escape!
So, stop by and check it out.
So, that's my segway into this Layout.
The first challenge of the Scrap-cation was a Triple Threat - Your challenge, should you chose to accept: Use the following 3 Paper Techniques: Paper Weaving, Paper Inking & Paper Krinkling.
This message will not self destruct (if it did, what would we have to scrap?!)
What better Paper Weaving, Inking, Krinkling topic than the Sham-Wow.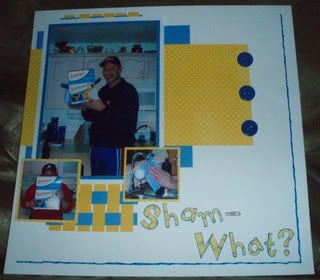 Paper: Miscellaneous Scraps from my overflowing scrappy bin
Cricut: Cuttin' Up for Title
Two edges were hand stitched w/embroidery floss.

The 'mat' under the large photo was made by

Weaving

strips together (sure glad I learned to basket weave growing up - that came in handy! Thanks Mom!)
The Title was

Krinkled & Inked
The journaling was typed on my computer, printed & under the photo. Of course, there's a story behind every photo!! This one is no different.
Not to bore you with details, but sometimes there's an 'inside family joke' behind photos. This is one of those photos.
The 'short' story behind this photo: For some reason, over the last few years, there's always an 'As Seen On TV' gift under our Christmas tree or in a stocking- two years ago it was a battery operated can opener (which by the way I Love and use ALL THE TIME). This year it was the clapper - though my hubby was trying to find the Sham-Wows but came up empty handed. So, not too long after Christmas, we were at the drug store and guess what he found?! Yep, you guessed - Sham-Wow.
So, now it's just a funny joke between us and of course, it needed to be scrapped (much like the Made in China expired Candy Canes we gave my brother in law (Glen's older brother) for Christmas as a 'funny-gag' gift. Guess our family is just a little goofy like that. Heck, my dad and I are still passing $10 back and forth - and we've been doing that for nearly 7 years.
Thanks for stopping by and reading my babble today - I hope you're having a great day and finding some humor in something.