So, my social secretary is even further behind in the birthday card department than I thought! (DOH!). I put together this little diddy today for one of the kids in our family.
Isn't the Changito playing baseball image too cute?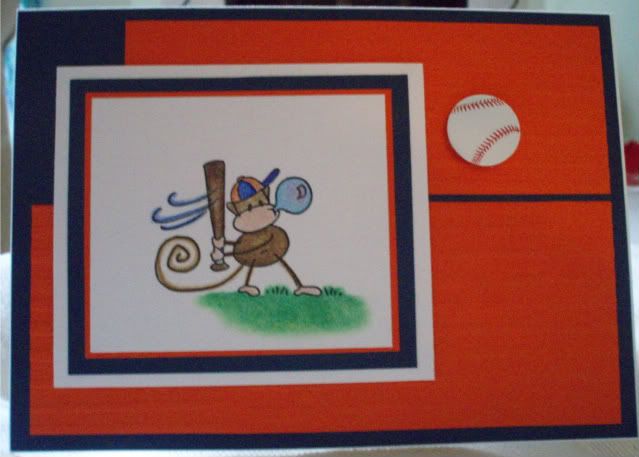 Image: Changito Play Ball

Papers: Blue & Orange (Detroit Tigers colors - he's a big Tigers fan!!)
Baseball stickers from my stash
Cuttlebugged orange CS with Distressed Stripes
The baseball sticker on the inside is much larger and on a little wire spring I made so when the card is opened it springs out. The inside says "Wishing you a Grand Slam of a Birthday".
Another blah and rainy day here - sorry I didn't post yesterday, but the weather was beautiful and the project I did work on isn't complete or ready to share (yep, another chipboard album).
We're in for nice weather tomorrow, which is why I'm taking the day off! Maybe then I can get caught up on a few birthday cards so I'm not so delinquent next month.
Hope you're having a wonderful Thursday and staying dry.
My flip flips are still wet and squishy after the downpour I waded through at lunch.