Happy June 1st

- gosh, where has the first 1/2 of the year gone? Seems like just yesterday we were dealing with 12 inches of snow, ice and cold. I'll take this weather any day over the cold & snow though!!
I've decided that since I was such a bad blogger and crafty completer in May, I'm setting goal for June - My goal for June is to post something creative every day incorporating some sort of challenge in it from my favorite challenge sites. I really do spend a little time every day in my studio, but it seems like last month, everything I worked on took more than one sitting (or several sittings) to complete.
So, with that said, here's the first crafty post for June - the inspiration is from the Mojo Monday Sketch Challenge, week 89 here.
So, here's what I came up with. . . . . .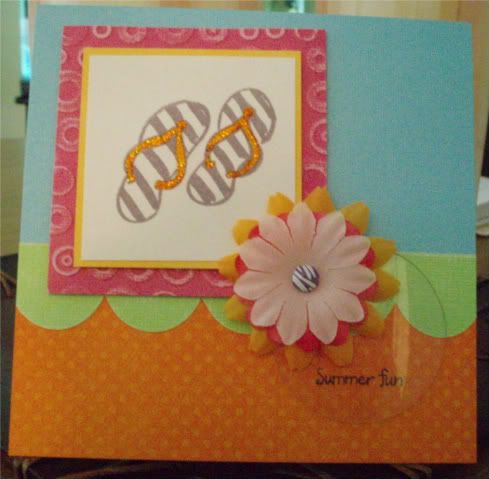 Image/Sediment: G-Stamps
Flowers & Brad: Miscellaneous from my stash
Acrylic Circle
Papers:
Bo Bunny Double Dot Paper in Buttercup Dot &Citrus Dot
Core-dinations Color Pink & Green
Cuttlebug: Spots & Dots
Stickles: Orange Peel
Thanks for stopping by today! Wishing you a Summer of Craftiness!