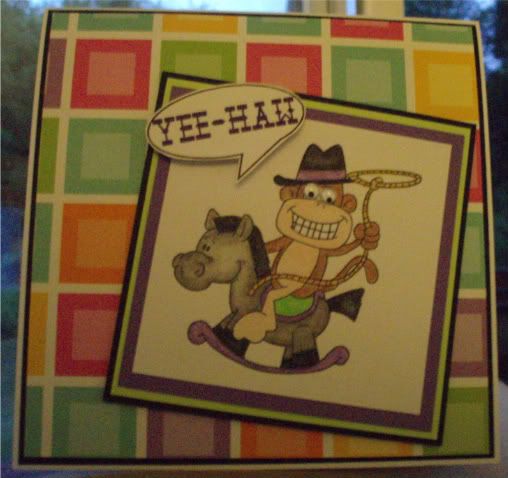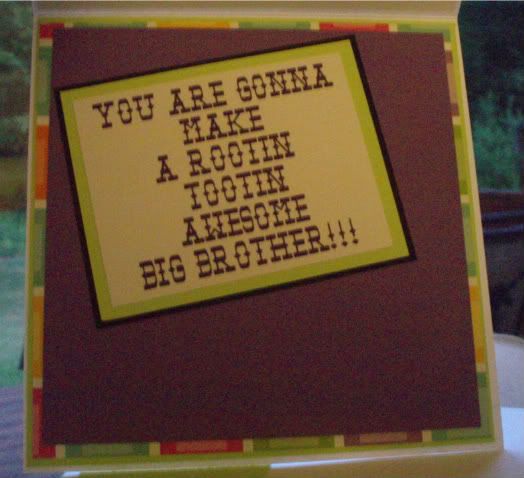 Yee Haw!!! Happy Weekend!! We'd hoped to spend at least part of our weekend outside, but the weather has been a bit uncooperative. Oh well, that way I don't feel so guilty about spending time in my studio working on some of the albums I've been hired to do.
I thought I'd share this fun little card I made the other day for my nephew, Colin. We found out last weekend that he's going to be a Big Brother in February and what a great Big Brother he'll be!! So, we had to send him a little celebration card. :o) I had to be sure to include purple in the card as Purple is Colin's favorite color (or at least I think it still is......)
No joke, after I finished this card & special envie, it weighed about 3 pounds with all the layers. I'm sure when it arrives Amy can confirm the weight!!
Materials:
Papers - Purple, Black & Green cardstock from my stash;
Doodlebug printed paper (a few years old) also from my stash.
Image - Digi-image from Dustin Pike (check out his images
here
)
Technique: MCPT
Text is computer Generated w/Tombstone font
Googley eyes are from my stash!
Hope you're having a great weekend (that's a bit dryer than what we're experiencing).
Happy Craftin'!
Min