I hope this finds you recouped and relaxed from a wonderful 4th of July weekend! We spent part of our weekend with our family. Both Glen's dad and my dad saw active combat during the Vietnam War, so we celebrated with them and celebrated the freedoms our soldiers fight for daily. We had gorgeous weather on Saturday - not too hot, not too sunny, just right - a perfect day for BBQ meal. We were able to enjoy an outdoor meal that was fantastic! Glen loves to grill and I think our family & friends will agree, there's never been anything that's come off the grill that wasn't 'to drool for'! Saturday was no exception.
Of course, after putting ourselves in a food coma, we were able to catch the firework display over the lake Saturday night. The perfect end for a great day!
But I digress - this was a quick card I put together last week but didn't have time to photograph or post. I made two of them, one for my favorite nephew and one for my favorite summer pen pal.
I can't remember where I saw this quote, but I thought it was adorable! Perfect for these two special kids in our life. Who doesn't LOVE sparklers?!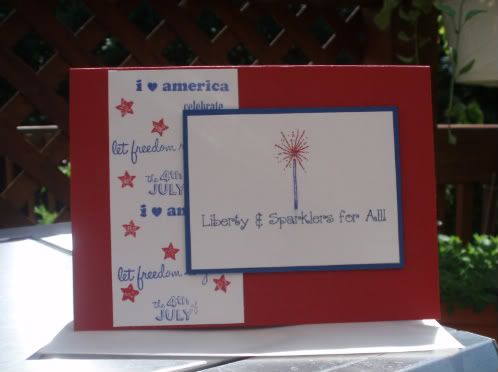 Paper: Red, White & Blue Cardstock from my stash
Stamps used: Stampendous Hey there Cupcake (for the 'sparkler'), Michaels or J's $1 stamps (stars & fourth of July/freedom phrases)
Inks: Color Box Red & Blue
Diamond Stickles on the red stars, Red Dragon Embossing powder on the sparkle of the sparkler
'Liberty & Sparklers for All!' computer generated using Scrap Baby font
Thanks for stopping by today - I hope you had a wonderful 4th of July weekend and are off to a beautiful week!!