I've been attempting to get caught up with a few of the Scrap-cation challenges over at Scrap-Friendzy and I tell you - Amy and her girlz must have been reading my mind! I needed to make a quick little thank you card for a birthday gift I received and Wah-la, like magic they gave me the perfect challenge.
The challenge was "X 3" -
Create a card and repeat three elements.
This was a super fun challenge as I don't usually make cards based on things to 'do'.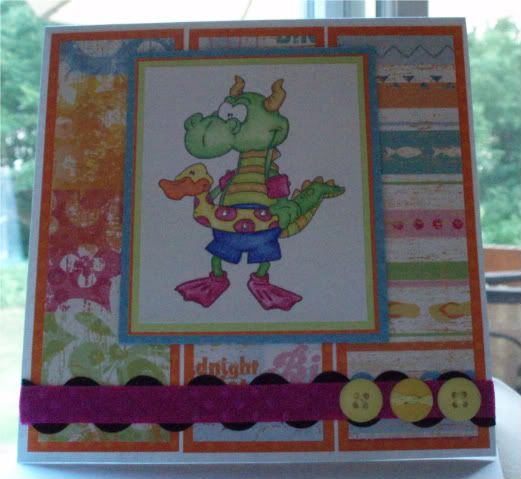 Didn't this turn out cute?!
I think I went a little overboard on the repeating elements, 3 columns, 3 printed papers, 3 different colors of cardstock, 3 buttons and 3 little bling pieces.
Papers: Bo Bunny Dots Cardstock; tropical paper I've had in my stash for some time & of course, can't remember who makes it......DOH!
Image: Dustin Pike's Swim Dragon
Ribbon, Buttons & Bling from my stash
Thanks so much for stopping by today to take a look.