So my hubby's grandpa has been in the hospital and is hopefully going home tomorrow.
So, I thought we'd send him a little note. at 95 years old, he is such a witty and wonderful man. So, with his wit, this card will be perfect. It's loosely base don the 'some days you're the bug, some days you're the windshield' phrase.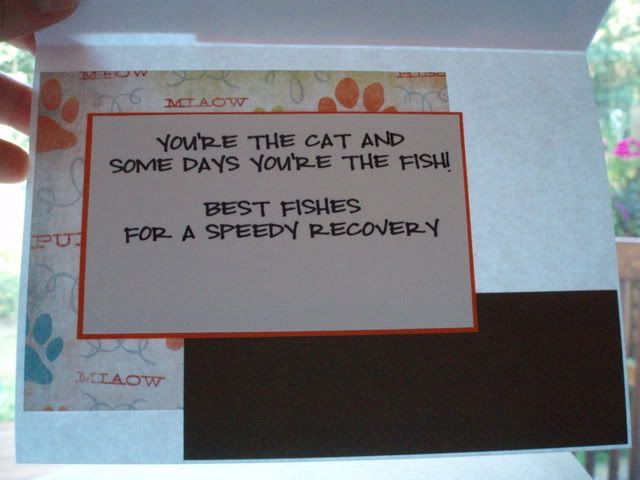 The image is one of the 118 I picked up from Dustin Pike's site during his awesome sale this past weekend. If you haven't checked out his digi-stamps, definitely check them out here. He's got super fun images and every Wednesday, he posts a freebie image to get you addicted! ;o)
I added Goggley Eyes on the cat (Believe me, I tried to put them on the fish, but they were a bit too big!). The cat's nose and little paws are popped up on dimensionals as well as the goldfish & the mouse.
Paper: Cat paper, Brown & Orange Cardstock from my stash

I used Turquoise, Orange Peel & Diamond Stickles for a little sparkle.
Thanks for stopping by today. Hope you had a great Monday!
I'm off to work on some albums & watch the Home Run Derby with my hubby!

Happy Craftin'!
Min