Here's hoping you've had a wonderful weekend! We've had lovely weather the last two days. Yesterday I had a baby shower to attend (and of course I forgot to take a photo of the baby blanket I knitted for the new arrival), I didn't get to enjoy the sunshine as I would have liked, but I got to spend the afternoon with my mom in law, Glen's cousin, aunt and family friend, so it was a good day! Today - the windows have been open and the sun tea jug is on the deck.
Have you ever noticed just how good things taste after a long winter? Fresh herbs in your meals, sun tea in your glass? Some of my favorite spring things I've been longing for all winter!
My mom in law who is a wonderful lady and very special to me is celebrating a birthday this Saturday. So, I spent a little time making this little diddy for her today using the Penny Black Saturday Challenge as the inspiration. You can check out this week's challenge
here
. The challenge was to use three different shapes.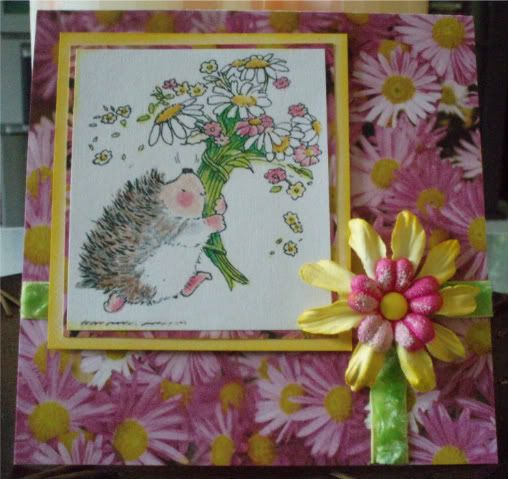 Flower paper is from my stash, yellow paper is WRMemory Keepers Explorer from the White Out Collection.
Green velvet ribbon from M's
Brad was inked and coated with UTEE
Well, off to finish up the potato salad for dinner.