So, we're busting out the sledge hammers and remodeling our kitchen this fall!
Okay, so not really, no sledge hammers involved, but our contract is I'm sure elated that we have FINALLY after 4 months, decided on a floor plan, cabinet color, countertop, sink and appliances.
WHEW!
After the arrival of Livy and two years into our 3 person family life, we've decided that we're in desperate need of a kitchen remodel.
While the old cabinets are still in their old location and the new cabinets have not yet arrived, we've got a BUNCH we're doing to get ready for the construction.
Isn't it amazing just how much STUFF you can collect in a kitchen?
The wonderful folks I work with laugh at me as I make my daily stop in our copy rooms for empty boxes to PACK the STUFF in.
I know we'll be scheduling several pick ups with our local Purple Heart before the project is finished.
The beautiful thing about this project is that it's initiated another project - more purging and organizing of our finished basement and a more function area that includes a play area for Livy.
That being said, I'll be crafting when time (and space allows), but I'm not MIA, just digging out of the stacks of boxes of donations (and trying to keep a 2 year old from UNPACKING everything I.JUST.PACKED!
What a game she thinks it is!
Kitchen will include white cabinets, or white-washed wood floor and a fabulous white/beige/gray speckled Corian.
We found our new table & chairs - a great dark wood contrast against the light cabinets -
Isn't this fabulous?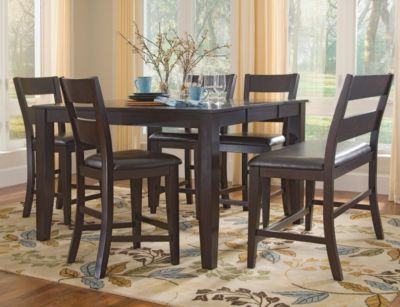 I'll be sure to share the progress as things get underway.
Hugs & Happy Days!